As much as the fabric beckons us back to India each year, often times it's the food that has us dreaming of future trips. Our visits to Kerala are truly a highlight for us. This is the birthplace of Malabar and truly where you'll find the best handloom fabrics in all of India. You'll also find some of the most delicious and fresh flavors in all of Indian cuisine.
Almost all our meals are eaten in the home of our supplier, and friends, served up by the magical cooking of Mridula. Every single meal feels like an epic event; a grand affair with most ingredients served straight from the garden. Fresh peppercorn, papaya, bananas, tulsi, coconut….
The pancakes are especially delightful; as thin as a crepe but fluffier and light and that coconut/cardamomo filling is divine. Since we're all in a bit of cooking frenzy with this isolation we asked Mridula to share her recipe and she kindly hand wrote it down for us, and we're sharing it here for you!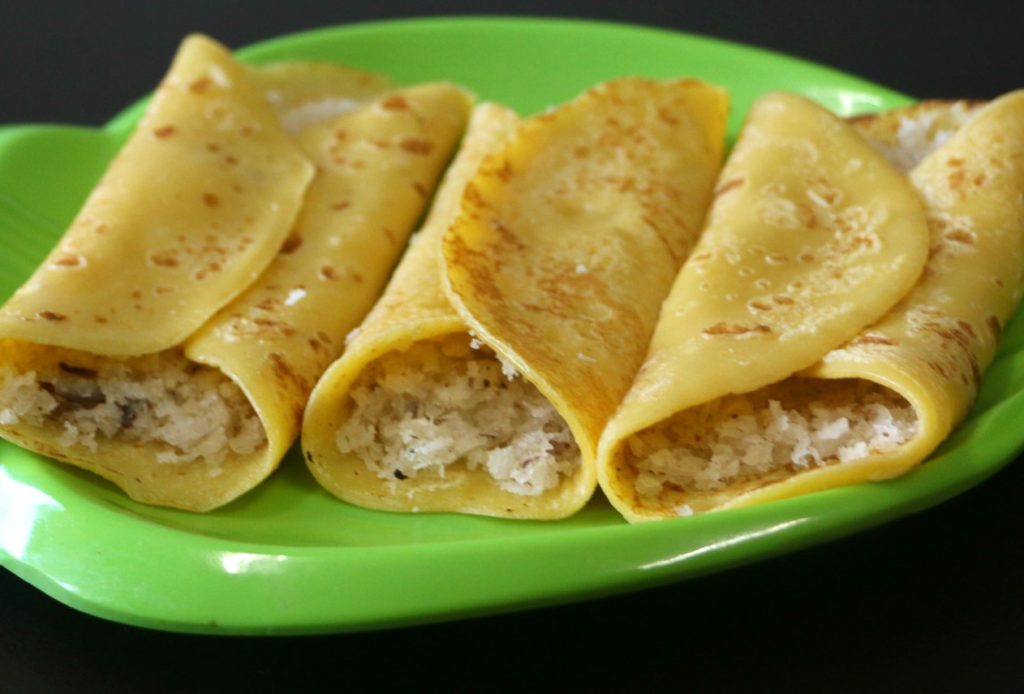 KERALA PANCAKES:
INGREDIENTS FOR PANCAKES:
1 cup All purpose flour
1 egg
¼ cup sugar
Water – as needed.
INGREDIENTS FOR FILLING:
1 cup grated coconut
½ cup sugar
¼ tsp cardamom
6-8 broken cashew nuts
1tpsp melted butter.
DIRECTIONS:
Whip together flour, eggs & sugar by adding water little by little (about ½ to ¾ cup) to a smooth, pouring consistency (like for crepes). Keep the batter aside for 10 minutes.
Meanwhile, prepare filling. Heat butter in a pan, roast the broken cashew nuts till golden brown and remove from pan & set aside. In the same pan, add grated coconut & sugar and saute well. Add cardamom powder and roast well. Now toss the cashew nuts back in the pan and mix well. Let it cool.
Now, on a flat griddle, pour a ladle full of batter and spread it out in a circular form like a crepe. When cooked, put a spoonful of the filling in the center and roll into a tube. Remove and serve hot with fruit preserves and a cup of hot chai!